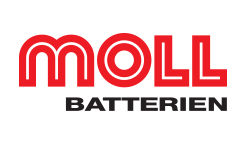 MOLL
MOLL manufactures exclusively at its site in Bad Staffelstein in Upper Franconia, thus securing a significant number of jobs for the region. With great pride, MOLL looks back on more than 70 years of experience in battery manufacturing.
MOLL has decisively influenced the world market in battery technology through innovations developed in-house at its research and development department.
MOLL is one of the most renowned battery suppliers for the automotive industry and for commercial vehicle manufacturers.
DOWNLOAD CATALOG